Scoring Wilder 
By: R.S Grey
What started out as a joke— seduce Coach Wilder— soon became a goal she had to score.
With Olympic tryouts on the horizon, the last thing nineteen-year-old Kinsley Bryant needs to add to her plate is Liam Wilder. He's a professional soccer player, America's favorite bad-boy, and has all the qualities of a skilled panty-dropper.
• A face that makes girls weep – check.
• Abs that can shred Parmesan cheese (the expensive kind) – check.
• Enough confidence to shift the earth's gravitational pull – double check.
Not to mention Liam is strictly off limits . Forbidden. Her coaches have made that perfectly clear. (i.e. "Score with Coach Wilder anywhere other than the field and you'll be cut from the team faster than you can count his tattoos.") But that just makes him all the more enticing…Besides, Kinsley's already counted the visible ones, and she is not one to leave a project unfinished.
Kinsley tries to play the game her way as they navigate through forbidden territory, but Liam is determined to teach her a whole new definition for the term "team bonding."
A fun & sexy New Adult Romance (age 17+)
This story follows main characters:
*Kinsley Bryant & Liam Wilder
Big secondary characters:
Becca (Kinsley's best friend & teammate) & Penn (Liam's best friend & teammate)
Story Overview:
The story starts off with Kinsley talking about her ex-boyfriends cheating on her. She ended up walking in on it happening. In the following scene, it is Kinsley's 19th birthday. She and a few of her new freshman teammates are headed to a party to celebrate. The following day, however, is their first practice on the ULA soccer team. At the party, Kinsley meets a lot of new people and one of which ends up being Liam Wilder.
She, a little on the drunk side decides to flirt with him. Eventually, everything changes when she finds out that he is her coach. He has a reputation for being a bad boy and already as it is her heart is fragile. As practices get into the swing of things Kinsley has to deal with developing feelings for someone she really shouldn't have feelings for as well as some upperclassmen and their initiatives that are pushed too far. This story is told from Kinsley's point of view.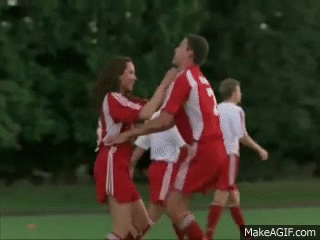 My Thoughts:
My reason for picking up this book was that I have previously read one of R.S. Grey's books, With This Heart and I fell in love with it. I enjoyed this book, but I found it really predictable. Although it was very predictable I really admired our main character Kinsley's attitude. She believed she could, so she did. Throughout this book Kinsley dealt with many obstacles but her attitude towards them was that she could overcome them. She didn't let anyone get in her way of her ultimate dream. I really admired this from her. Another thing that was pretty typical was the fact that Kinsley and Liam were both top dogs. Both were gorgeous and their team's #1 players. They both were pretty big in the soccer world. However, there is an age difference between the two characters. Kinsley is 19, while Liam is 25. Liam had known about Kinsley due to her being one of the top heavily recruited players and had also been featured in many magazines as an up and coming player.
So, like I said a bit earlier, the story was pretty predictable and found a lot of the book situations to be very cliche. I, however, did like the book and found the characters to have a good connection with each other. I would have to give this book a 4/5.